About Us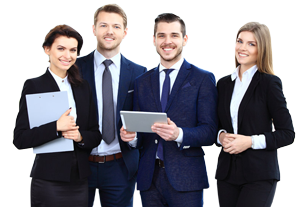 We are here to AMAZE!
While our company was founded in 2018, our founders have been leaders in the tech industry for 33 years combined. We have 20 years of experience working on government contracts. Two of our founders have TS/SCI Security Clearances, and are 8570 Compliant Sr. Software Engineers.

We pride ourselves on developing intuitive and modern software designed to make complex data easy to understand through data analytics. We implement Agile best practices, in being able to deliver results faster and more efficiently.
We have taken modern approaches to decade long manual processes. This has enabled automation of jobs, improved reporting to achieve peak efficiencies, and most importantly boosted cost savings. The successful deployment of scalable applications empowers our clients to have more confidence in their business processes.
Past Performance
Developed low-latency distributed platform for deploying HBSS suite to entire network of workstations and servers.
Mitigated all non-compliant workstations and servers and taking compliance from 85% to 99.8%
Managed .NET application development & Powershell scripting for entire network, ushering a new era of automation
Developed enterprise performance and capacity solution providing utilization trend analysis for all servers on network
Developed enterprise NOC web application for network outage and incident reporting. Used as primary means of communication for NOC to achieve resolution of incidents, and to provide situational awareness to customer.
Developed Windows application that provides asset management reconciliation capabilities for over 200k network assets.
Collaborated with vendors, such as NetApp and Blackberry/Good, to aggregate vendor specific data into a central repository and integrate with a suite of Business Intelligence tools.
Our Values
Mission Statement
We at Mazent Technology aim to exceed your expectations. We work harder and smarter, and never settle for the status quo. While some of the others may make excuses, we get results. Some of our core values are:
The executive team at Mazent Technology works to deliver highly successful technology initiatives. Our level of commitment permeates everything we do. We create a culture where we attract and retain the top professionals in their respective fields.